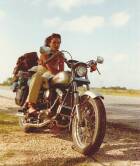 Rosi on a 1977 Superglide somewhere in America.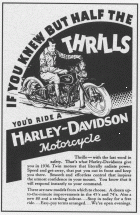 1936 61 OHV advertisement
Years have passed,
since my friend Juergen and me went to Honduras to participate on a little trip across Central America. On a small space like this website I cannot describe our adventures, our feelings, and the excitement which never abandoned us on the entire journey. The visit of Tikal, the crossing of a pendant bridge and a river at a ford were my personal highlights, the howling of the monkeys, the spicy food, the company of serious and sensitive riders...., you name it.
On this page I publish some of the pictures I took. I am sorry, but my camera was not at the ready , when somebody of the group almost fell off the pendent bridge.
I hope I can make this or a similar trip again this year or in the near future.
Click on the logo (Maya Moto nTours) to go directly to their website
All pictures are "clickable" to receive a larger image
Volcano - active

Volcano - not active
Tikal - Old hirisers in the jungle

Roadside restaurant

Coffebreak -We saw her at the entrance....

The lake Atilan
The 650 Suzuki ridden by Juergen

Lakeview Atilan - The poolside view

Monkeys on the road

The border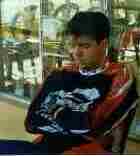 Taking a nap