Picture of the month:



There she is. Somebody must have stretched her frame to fit the Blockhead inside. A barrel type oil tank, a shortened mudguard, a gas tank, which might take you to the next bakery and back on an early Sunday morning,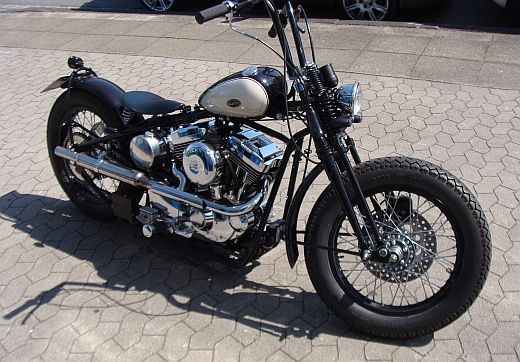 complete the bobber style bike. The bike was discovered in Hannover, in Northern Germany. The owner though was out of sight, therefore no questions could be asked about his philosophy, or why he is in love with gas stations.

About 140 miles north of the Harley Davidson factory in Wisconsin, you will find Brian's shop. Brian sells primarily Harley-Davidson motorcycles, which can be damaged due to a falling branch of a tree, or an accident. Thus these bikes are inexpensive and Brian will tell you, what do you have to do to fix it. Import duties and taxes can be saved and you finally end up with a sound ride for the price you can afford. Brian ships worldwide.

Harleys.de

is a proud sponsor of the View Society which supports underprivileged children


in Thailand. And you should too, as the new invoices for the upcoming school term are almost due. Every single donor will have constant access to the accounting online, and will exactly know how the money is being spent. The society is recognized by the government of Germany. Donations are tax deductible. Tell us, do you have barbwire in your pockets?

A rare breed

Lately in Samut Prakan, a part of Bangkok we stumbled over a motorcycle, which looked a kind of strange...!

Taking a closer look it turned out to be a Janda, a Jawa with a 125cc Honda engine inside. Click into the picture to see more of this beautiful piece of junk.
The Evo of the Dike

Proud owner of this beautiful Evo built in 1992 is one of those guys, who won't sell their bike forever. His name is Jens from Cuxhaven, and he loves to ride out for that Sunday morning biker meeting at the "Dorumer Tief". Nobody knows why Jens stepped out of focus right before I took the picture. He was exactly there, where you now can see those bloody trashcans.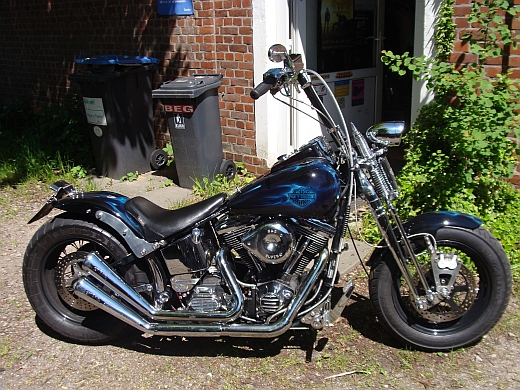 By the way, riding with highrisers prevents underarm perspiration and the blond ladies from Northern Germany rather prefer the smell of a freshly baked lemon sole, did you know?

The Thailand GP 2023

will be held in Buriram from 27 OCT - 29 OCT.
Watch it on TV is my recommendation. The money saved could be spent to help to fight against hunger in the world, which kills around 20.000 people in the world - every single day!
Avoid the highways
Going south, not having the time to cruise all the way down from Germany? Don't worry. If you have some cash or may be your good old friend has some, get your bike on the German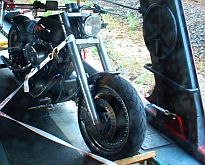 "Autozug". Enjoy a night with a hot shower and some decent red wine. After a nights ride from Hamburg you can go either to Verona or Lörrach from where you can easily swing through France and into Spain, or if you travel to Verona, you might want to go down to the mountainous Sicily, to grind the footpegs of your bike. If you compare the price with the savings you made, wasting gas on highways and an additional overnight stay or two, it is worthwhile, not to mention the constant rattling, which reminds you of your sled and lets you sleep just perfectly.

Quote of the month:

Life should not be a journey to the grave with the intention of arriving safely in a pretty and well preserved body, but rather to skid in broadside, in a cloud of smoke, thoroughly used up, totally worn out, and loudly proclaiming, 'Wow! What a Ride! - Hunter S. Thompson

Visit