Our favourite road sign
This road sign was found by Chris Wagner on his motorcycle trip to to Mae Hong Son, west of Chiang Mai, close to the Burmese border.
Harleys.de suggests, that this should be the only road sign on country roads.

Peter Fonda on Safe Riding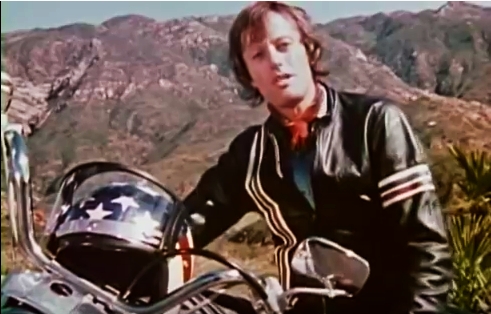 Have a look here and enjoy: https://www.youtube.com/watch?v=9eFNcbltDnM

Rauchs Café & Bar
...is the place for the those guys, who can´t leave their bike home and even ride in steady drizzle. Sure they know what to expect at Rauchs Café: the best coffee in the town of Bremen, Germany.

wb(at)harleys.de
Picture of the month:

Do you know the Cycle Shack on

10124 Liberty Rd, Randallstown, MD 21133.

Icy roads, winter time in Maryland. Who the hell is riding out there. Harleys.de gave it a shot. Surprise, they were open. Whom they were waiting for? A warm welcome, some free contact breaker grease (that's all we needed) for our 1975 Superglide. We got it.
But what Laura the owner told us, they do have "shitload" of old Shovelhead parts right underneath the roof, which they took over from the earlier owner. So if you are desperate to find something for your Shovelhead, give them a call at 410-922-6141. And you might find someone, who will do the job for you too. See some remarks, which Harleys.de found here: https://www.yelp.com/biz/cycle-shack-randallstown. And do not forget: Support your local dealer. They are there for your, even when it snows.
Roadking 2003

Some images of the last and not anymore available Roadking made in 2003, the

100th

anniversary of Harley- Davidson.

Today all new Harleys feature even an electronic fuel injection system, besides the electronic ignition. Can you imagine how does it feel, when just one of these devices fail on the Great Northern Highway in Western Australia? No? You'd better switch to the old style carb, contacts, and the antique auto advance mechanism, or move within the range of a Harley dealer, or just stay at home.
Sometimes it looks this way...

..when you have a lot to do, and not the time to clean up. But who cares. Who keeps everything in perfect order, is only too lazy to search.


Harleys.de

is proud to sponsor the View Society, which is supporting underprivileged children in




Thailand. The society is recognized by the government of Germany. Donations are taxdeductible.

Quote of the month:
"Faster, faster, faster, until the thrill of speed overcomes the fear of death..."
- Hunter Thompson

Rust never sleeps
Always good for a surprise are these parties arranged by the Malek Team. Here is the tank and engine of an eyecatcher.
Click into the picture for more. The quality of the photos is not perfect due to a low battery in the camera.
A brand new Pan
is in the make by Dieter Lübben of DHC, located in the town of Wildeshausen, Lower Saxony, Germany.

Webcounter

Visit