Rauchs Café and Bar
.....is the place for the those guys, who can't leave their bike home and even ride in steady drizzle. Sure they know what to expect at Rauchs Café: the best coffee in the town of Bremen, Germany.

Picture of the month:

This warning "Don't ride without a helmet!" was found in Hat Yai. Your fine will be 200 THB or converted, just five Euro.
contact: wb(at)harleys.de
Dedication that's all you need..

...and some folks out there, they just have it. They are closely associated with history, and thus open for new ideas. They are not swimming with the main stream, but enjoy their individual way of life. One of those guys is living in Haltom City, near Fort Worth, Texas. He is working on Harleys for more than 30 years. He despises the clinical hygiene of those licensed dealers, and their prices usually only being called up in the houses of pleasure. With his friendly attitude and his knowledge, he will convince you to leave your bike there for that little extra service or repair job. You won't be disappointed. He is does a great job, and for a very affordable price.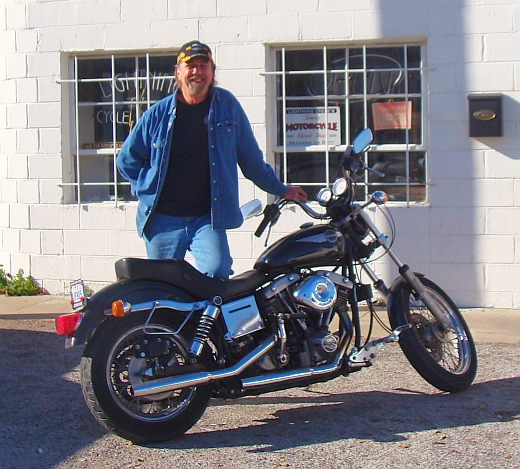 By now you should know, whom I am talking about. Yes you are right. It is Troy Nicholson, the owner of Lightning Cycle Works. Find out more by clicking into the picture.
Get into the gear...




One of the first Bike events, eventually worth visiting will be the Khon Kaen bike week in the North of Thailand. All those, who are fans of a gathering of the motorcycling masses are invited.



Sometimes it looks this way...

..when you have a lot to do, and not the time to clean up. But who cares. Who holds order is only too lazy to search.

Parking for us

All of us have seen this or a similar sign somewhere already. But this one is completely different. The sign is a downright lie. Click into the photo and find out what will happen to your bike when you park it underneath the sign. No matter what you ride, you will be surprised.

Harleys.de

is a proud sponsor of the View Society which supports underprivileged children in

Thailand. And you should too, as the new invoices for the second school term are almost due. Every single donor will have constant access to the accounting online, and will exactly know how the money is being spent.

The society is recognized by the government of Germany. Donations are tax deductible. Tell us, do you have barbwire in your pockets?
Quote of the Month:
Most motorcycle problems are caused by the nut that connects the handlebars
to the saddle. ~Author Unknown
The thrill is gone.

More than forty years after the movie "Easy Rider" this era finally is over, though some guys still think it will last forever. Meanwhile the older Harley dudes dwindle; some of them keep their sled in shape and take it out for that sunny afternoon ride to their favorite bar. At the most the once open roads are now crowded with cars, and jammed with traffic signs. Your cornering abilities are restricted by speed limits, and the price for gas skyrocketed. Decent riding is only possible in the very early morning hours during the summer or in uninhabited areas, which are hard to find.

Today there is Sturgis and Daytona, as well as other suspicious events with thousands of merchandise maniacs. Marketing specialists are ruling the scene. Under the pretence of helping, charity runs primarily became serious businesses. Titties and beer is the motto of the motorcycling masses. Apparel and accessories substitute the irreplaceable spirits of the good old days.

But there are still some small rallies around, which are not published or completely
commercialized and only known to a handful of fabulous fellows with their motorcycles. Just to name one, there is the Whitsun rally to Terschelling, one of the beautiful West Frisian Islands just off the coast of Holland. On site you won't find a burning Japanese motorcycle on a lamppost or the smell of a dull burnout, but a bunch of classic iron, as well as a lot of experience and helping hands when in need.

Nevertheless, with this website we try to please those downright dudes who still ride their Harleys and uphold the spirits of sharing and hospitality. And when you feel like taking your sled out to ride across Europe, to enjoy its different cultures and beautiful landscapes, like the Ardennes, the Asturias, the small winding roads through the Sicilian mountains, check out the local weather forecasts at wunderground.com, and try to avoid the rain..
______