All around the Gulf of Mexico
More than a third of a century ago this beautiful girl travelled the U.S. form Miami to Acapulco, Mexico on a 1977 Superglide. This month she will party
her birthday, and to me it seems, after all these years, that her looks never changed since she undertook this journey.

By the way, Central America still offers a great deal of motorcycling either on- or off the road. If you are looking for a adventurous motorcycle experience, strongly recommended by Harleys.de just click into the picture underneath.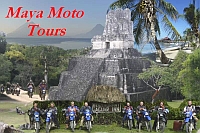 Rust never sleeps
Always good for a surprise are these parties arranged by the Malek Team. Here is the tank and engine of an eyecatcher.
Click into the picture for more. The quality of the photos is not perfect due to a low battery in the camera.
Quote of the month:
"Some people will tell you that slow is good-and it may be, on some days...but I'm here to tell you that fast is better. I've always believed this, in spite of the trouble it's caused me. Being shot out of a cannon will always be better than being squeezed out of a tube. That is why God made fast motorcycles ..."

- Hunter S. Thompson
Picture of the month: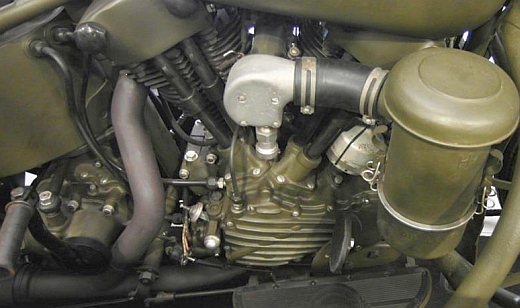 A beautifully restored 1947 Knucklehead on display at the Bangkok Motorbike Festival a couple of years back. By clicking into the picture, you will be forwarded to some more pictures of the bike, though the bike is defaced by "Vintage Bike Thailand" with their stupid label, or their impossible sidecar.

About 140 miles north of the Harley Davidson factory in Wisconsin, you will find Brian's shop. Brian sells primarily Harley-Davidson motorcycles, which can be damaged due to a falling branch of a tree, or an accident. Thus these bikes are inexpensive and Brian will tell you, what do you have to do to fix it. Import duties and taxes can be saved and you finally end up with a sound ride for the price you can afford. Brian ships worldwide.

A boys toy?

Bang Noi knows the answer. His answer is "Yes". He always and desperately wanted a Harley-Davidson, the "King of the Road", or "the dream bike for every boy" as he calls it. After finishing his studying, he started a business selling fried chicken at the local university, the Prince of Songkhla University in Hat Yai, and he saved his money until he could afford to buy one. One day he found a steal in Bangkok, a 2007 Dyna Street Bob. Pure power out of the 96cu Twin Cam machine, low
miles, little chrome, perfect sound, for a mere
of about 19.000 USD,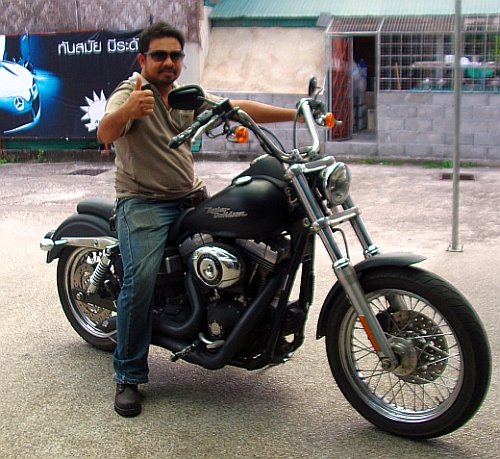 .
which

is dead cheap, if you look at Thailand's import duties and taxes.

The perfect sound comes out of a custom exhaust system, which also can be used to sweep the dirt out of your garage.






The Dyna also features the famous cowbell. Local Harley riders say: "The "cowbell" is to ward off evil spirits". And this is, what you need on the roads of Thailand, where simple traffic rules and laws are being neglected everywhere.


It looks like Bang Noi found the ride of his life. If Harleys.de may recommend something: Get yourself a helmet according to the American Safety Standard (DOT). They are available.

Harleys.de
is a proud sponsor of the View Society which supports underprivileged children in Thailand.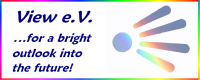 And you should too, as the new invoices for the upcoming school term are almost due. Every single donor will have constant access to the accounting online, and will exactly know how the money is being spent.
The society is recognized by the government of Germany. Donations are tax deductible. Tell us, do you have barbwire in your pockets?
Here they come again, the Cafe Racers

Back in the fifties English motorcycle enthusiasts changed their classic English iron into cafe racers, lowered the weight of their bikes by removing unnecessary metal, and mounted clip on handlebars, to give the bike a decent sporty look. Those guys truly were fed up with the bourgeois life of their surroundings. The heritage of that era was upheld by guys like Norman Hyde, Mick Duckworth, The Ace Cafe, and even Willie G. Davidson helped, when he created the Harley Davidson 1000cc XLCR cafe racer back in 1977, as seen here (uploaded to Wikipedia by Piero), which became an all time classic. More about this bike can be read here.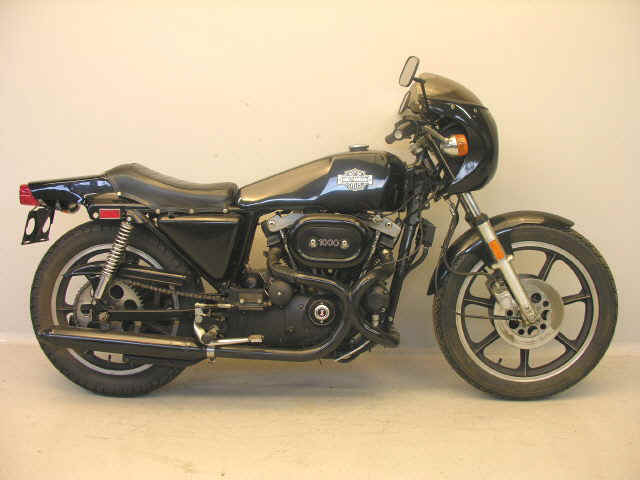 Today this era comes back to us, showing folks with great ambition, to make their private dreams of their own cafe racer will come through. Have a look at their facebook site.
Do electronics mean progress?
Today all new Harleys feature an electronic fuel injection system, besides the electronic ignition. Can you imagine how does it feel, when just one of these devices fail on the Great Northern Highway in Western Australia? No? You'd better switch to the old style carb, contacts, and as well as the old style auto advance mechanism, or move within the range of a Harley dealer, or just stay at home.


Chiang Mai Toy Ride


This charity run used to be an institution, but during the last years it disappeared. Now it is



back with the help of a local HD dealer named Richco. The run will commence on
S
unday, the 26th February 2023.
Bring some toys and/or cash to support the local youngsters.

Visit Counter