Picture of the month
Pattalung, in Trang Province, Thailand, is the town where the Pattalung Riders cultivate their hobby, and show their choppers at various bike meetings throughout Thailand and Malaysia. Here you see the side view of Tews chopper, more underneath.


At the Hat Yai bike week a bro named Tew was the star of the show with his home made chopper. The complete bike, except the stock blockhead, was built up by Tew himself.

Beside the perfect molding the bike shows some neat details, like the

springer front forks or the paint job on the top of the tank. Sure thing, Tew can be proud of the outcome of his chopper, which outweighs any hardship or privation during the building period.

More pictures in a resolution of 1280 pixel width can be seen on a sub site. Here is the link:

http://www.harleys.de/tew/tew.html

Just click into one of the thumbnails and proceed with "next" or "previous"






About 140 miles north of the Harley Davidson factory in Wisconsin, you will find Brian's shop. Brian sells primarily Harley-Davidson motorcycles, which can be damaged due to a falling branch of a tree, or an accident. Thus these bikes are inexpensive and Brian will tell you, what do you have to do, to fix it. Import duties and taxes can be saved and you finally end up with a sound ride for the price you can afford. Brian ships worldwide.





Classic Iron

They will never die. They will be kept in shape and passed on to the sons or daughters of their respective owners. Either American or British motorcycles are their favourite toys. Here it is Wichit from Hat Yai, who proudly owns this 1955 BSA M33. Sometimes it does not have to be a Harley. Click into the photo for a larger view.


Parking for us

All of us have seen this or a similar sign somewhere already. But this one is completely different. The sign is a downright lie. Click into the photo and find out what will happen to your bike when you park it underneath the sign. No matter what you ride, you will be surprised.
Georgia Overdrive?
When you listen to the song "Six days on the road.." by Dave Dudley, you can hear him singing: "...I got ten forward gears, and a Georgia overdrive." But, what the hell is a Georgia Overdrive? Harleys.de lately found out: When you start to go downhill with your vehicle, and disengage the gear into neutral, to go faster just by rolling. Among truckers this is called a Georgia Overdrive. If you want to look for other American slang words you might not understand, have a look at the urban dictionary.

Harleys.de
is a proud sponsor of the View Society which supports underprivileged children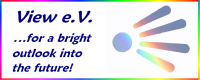 in Thailand. And you should too, as the new invoices for the upcoming school term are almost due. Every single donor will have constant access to the accounting online, and will exactly know how the money is being spent. The society is recognized by the government of Germany. Donations are tax deductible. Tell us, do you have barbwire in your pockets?
Avoid the highways
Going South, not having the time to cruise all the way down Germany or France? Don't worry. If you have some cash or may be your good old friend has some, get your bike on the car-carrying train. Enjoy a night with a hot shower and some decent red wine. After a nights ride you will be in Narbonne in the South of France, from where you can easily cross the Pyrenees and thump into Spain. If you compare the price with the savings you made wasting gas on highways and an additional overnight stay or two, it is worthwhile, not to mention the constant rattling, which reminds you of your sled and lets you sleep just perfectly. Sadly German Railways (DB) has cut their offers significantly, instead of promoting this comfortable way of travelling.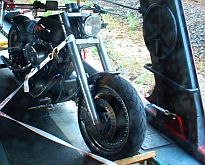 Quote of the month:


"If I had wanted to make a life long career out of working with the mentally retarded, I would have either gone into Special Ed or opened up a Harley-Davidson dealership..." - Christopher T. Shields (Black Echo)

Visit