Picture of the Month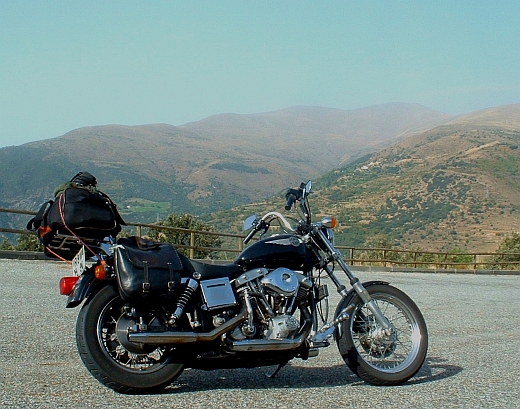 A class of its own. These old Superglides combine comfort, perfect handling due to their relative low weight, compared to those "full dressers", and reliability. You don't need a Harley shop around the corner, if the bike does not perform. There is no electronic ignition, which can blow its transistor. Just a set of contacts, a condenser, and an auto advance mechanism are taking care of the spark and its timing. No computerized thermo controlled fuel injection can fool you. The S&S carb is in charge, to deliver the right amount of gas into the combustion chamber, or the stock Mikuni, which also does the job. Precisely because of these old-fashioned features, Harleys.de considers this bike as the perfect long distance touring bike. Actually the only place you should not visit with your old sled, is the seaside campground in Pie de la Cuesta, Guerrero, Mexico. The salty pacific spray will penetrate into every single spot of your bike. And you really do not want to have that.

Rolfs Chopper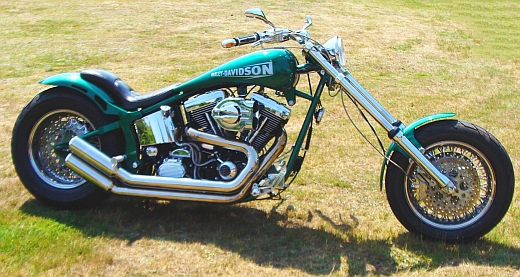 Rolf from Oldenburg in Northern Germany wanted it all: a clean sharp muscle machine with the power to shut down anyone who picks up the challenge. Technical specs remain a secret. Here it is. Larger views, when you click into the picture.






About 140 miles north of the Harley Davidson factory in Wisconsin, you will find Brian's shop. Brian sells primarily Harley-Davidson motorcycles, which can be damaged due to a falling branch of a tree, or an accident. Thus these bikes are inexpensive and Brian will tell you, what do you have to do, to fix it. Import duties and taxes can be saved and you finally end up with a sound ride for the price you can afford. Brian ships worldwide.


Quote of the Month:

"Riding a motorcycle on today's highways, you have to ride in a very defensive manner. You have to be a good rider and you have to have both hands and both feet on the controls at all times. - Evel Knievel
We take orders now!
The first product harleys.de wants to offer you, is a fashionable numberplate

frame, sporting the Hello Kitty doll. It comes in glossy pink and white. Please inquire for prices and shipping.
Harleys.de
is a proud sponsor of the View Society which supports underprivileged children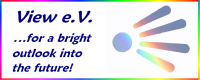 in Thailand. And you should too, as the new invoices for the upcoming school term are almost due. Every single donor will have constant access to the accounting online, and will exactly know how the money is being spent. The society is recognized by the government of Germany. Donations are tax deductible. Tell us, do you have barbwire in your pockets?
Rauchs Café and Bar
.....is the place for the those guys, who can't leave their bike home and even ride in steady drizzle. Sure they know what to expect at Rauchs Café: the best coffee in the town of Bremen, Germany.


Visit Counter